Brief of project
The Kumbh Mela is one of the largest pilgrimages and religious festival in India, held every 12 years with a footfall of around 23 Crore people. Considered as the "world's largest congregation of religious pilgrims", historically, crowd management at Kumbh Mela has been a nightmare for civic authorities and the event has entered popular Indian folklore for the high propensity of accidents like people getting separated from each other and other overcrowding related incidents. Hence, when civic authorities and Government of India decided to make Prayagraj a smart city, one of their major considerations was to create a benchmark in management of Kumbh Mela using smart technologies.
Achievements
Real-Time Video Analysis for Crowd Management
Real-time detection and alert algorithm in overcrowding circumstances through thresholds and benchmarking
Identification of uni/bi-directional/Wrong-Way movements and movements in restricted areas
Dashboard for crowd management with graphical representation of crowd levels of the areas under coverage, trend analysis for peak and off-peak days, alerts for excessive crowds etc.
Cutting-edge smart solution deployed in Prayagraj during Kumbh Mela played a vital role in the successful execution of Kumbh Mela 2019 and proved pivotal in realizing the dream of City Administrators in achieving the 'Zero Harm' mandate to pilgrims.
The number of untoward fatal accidents due to crowd management issues was brought down to zero and real time monitoring of crowd patterns and subsequent automated alerts raised in case of exigencies ensured that the administration and emergency services were always in control of the situation.
We blended the benefits of contemporary technologies like Artificial Intelligence with the needs of millions of pious devotees. It is the smart solutions that were vital in flawless conduct of the event.
Crowd Management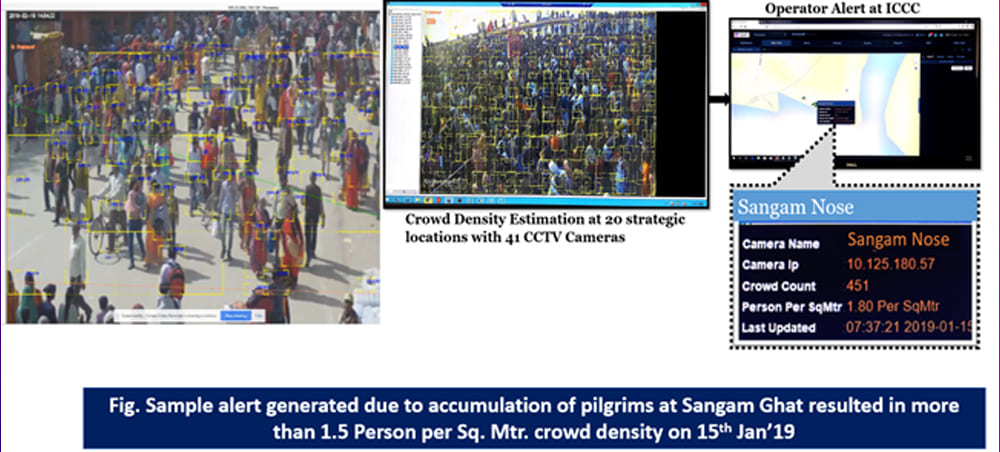 Kumbh Mela – Continuous Learning & Innovative Mindset