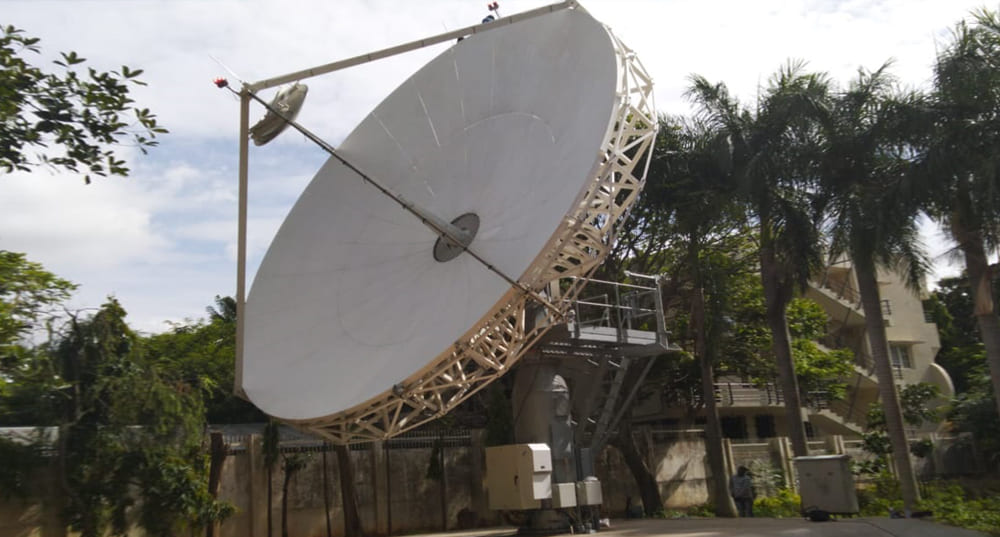 Satellite Communication
We have made a remarkable presence in the SATCOM and Telemetry Ground station domain by showcasing our capabilities in System integration, Network Management, System Design and Development. We offer Satellite Ground Station solutions in C, S, Ku and Ka bands for high-speed data and video communications. The IP-based Satcom Link established by us enables Centralized Situational Awareness and extends capability for compressed video, voice and data which aids in decision-making.
Testimony of our expertise was proven while setting up 22 ground stations for the GSAT-11, GSAT-29 and GSAT-20 satellites for ISRO. We are pioneers in setting up ground stations which offer seamless switching capabilities. Our Rapid Deployment Communication System (RDCS) is a SATCOM-LTE network in a box which is based on the principle of Open Architecture. It can seamlessly connect to legacy and advanced communication devices. Its rapid deployability makes it highly suitable establishing a captive network & for Humanitarian/disaster relief operations. A variant of it is an in-service equipment with the Indian Navy.
We offer solutions for Realtime Train Information System (RTIS) for improving operational efficiency and quality of passenger information. RTIS enables Train Controllers to easily track the location, speed and timing of arrival and departure of trains. The system would benefit the passengers to plan their journey conveniently. The state-of-the-art system comprises of GAGAN/NavIC receiver, Satcom Transceiver modules and a 4G modem.
We are also a trusted partner by Ministry of Defence (MoD) for handling strategic projects of national importance. Solutions provided by L&T Smart World have given a boost in Strengthening the Defence capability of the nation.