GSAT Ground Station Programs
Milcom Segment of L&T Smart World has executed three prestigious GSAT ground station projects for Space Application Center (SAC), ISRO, namely GSAT-11, GSAT-29 and GSAT-20. The implementation of these projects included System Engineering, associated Design and Development, Supply of Hardware & Software, Installation, Integration, Commissioning and Testing of the Gateways.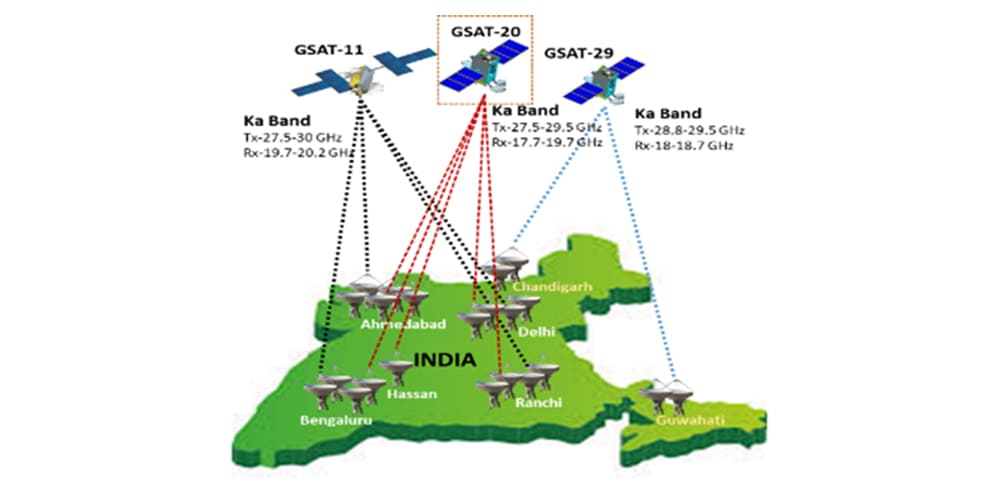 Utilization of GSAT-11 Satellite:
Providing Internet connectivity to Remote inaccessible villages in India - "Bharat Net" Initiative from Govt. of India.
Will be used for BSNL IP Start Migration.
GSAT-11 is a High Throughput Satellite.
Data rates up to 12 Gbps.
It works on 8 Ka Band Spot Beams for Uplink and 32 Ku Band Spot Beam for downlink.
Utilization of GSAT-29 Satellite:
The satellite is intended to add data transmission capacity to the communication infrastructure required by Smart Cities Mission of India.
It works on 4 Ka Band Spot Beams for Uplink.
Utilization of GSAT-20 Satellite:
The satellite is intended to add data transmission capacity to the communication infrastructure required by Smart Cities towards Digital India initiative of GoI.
GSAT-20 is a High Throughput Satellite.
It works on 8 Ka Band Spot Beams for Uplink and 32 Ka Band Spot Beam for downlink.
Virtual On-Site Acceptance Testing (OSAT) for GSAT Programs
With the onset of COVID-19, the way the world operated completely changed. Logistics, supply chains and other site related activities were deeply impacted. In order to cope with the situation, fundamental changes had to be made not only in site operations, but also in business operations at large.
For L&T too, the usual activities that took place at sites and work places had to be modified in order to fit into the COVID protocol guidelines. In such a scenario, conduct of activities like On-Site Acceptance Testing (OSAT) posed a challenge.
Milcom made a major breakthrough by taking a decision that was risky yet an extremely innovative initiative. For the first ever time, On-Site Acceptance Testing was proposed to be carried out virtually at several sites spread across various Indian cities: Ahmedabad, New Delhi, Bangalore, Ranchi, Hassan, Chandigarh & Guwahati.
The normal testing process was a long drawn activity that involved sharing of internal test reports, customer approvals, visit of ISRO scientists at the respective sites. The whole activity would generally span for weeks especially when multiple sites are involved. However, with the switch to virtual testing, the gains were significant for the customer as well as L&T. The OSAT was conducted virtually for the first ever time in the history of ISRO.
Several ISRO scientists from multiple locations virtually witnessed the testing which was a first-of-its-kind activity in ISRO. The senior ISRO scientists appreciated this smart initiative by L&T Smart World during the challenging COVID-19 times and further preferred the virtual mode of testing for subsequent OSAT activities as well.
Several benefits could be drawn from switching to virtual OSAT:
Project Progress
The testing could progress expeditiously which otherwise would have been delayed due to movement restrictions
Deployment of only 1 person at sites with reduced waiting time
Time Saving
Reduced waiting time of 7 days per site on account of customer travel
Improved testing time from a week to 3-4 days/site
Other benefits
Avoid Risk of COVID infection to Customer and L&T team
Achieve customer satisfaction without compromising on methodology/quality of testing.
On the success and acceptance of this model with ISRO, virtual OSAT was proposed to be implemented for other clients as well.
Seamless Diversity Switching – GSAT Projects
Each of the GSAT Gateways comprises of a Main and a Diversity station. Ka-band is highly susceptible to rain fading. To avoid the data packet loss due to rain fading, GSAT Gateways are set up in Main and Diversity configurations. To ensure seamless transmission of data when the communication switches from Main to Diversity Site, L&T Smart World had offered DWDM RF-over-Fiber transmission systems. A bidirectional Optical link was used to transfer the signals between the Main and Diversity Antenna Site.
The Seamless diversity switching is a niche technology and the same was neither used nor was demonstrated in India before. The challenging opportunity provided L&T Smart World's engineers to demonstrate their skills to solve complex predicaments.
Seamless Diversity Switching was successfully demonstrated to ISRO. All the desired parameters were successfully demonstrated. ISRO applauded the efforts of the entire L&T Smart World team associated with the program for meticulously planning and demonstrating the niche technology.